Excellent Shirt Laundry Services in Peterborough, Belleville, Kingston, and the surrounding areas
Gifted with extensive experience in the cleaning industry, our expert team members fully understand the role of shirts in defining your personality and looks. In that capacity, a well-laundered crispy clean shirt can offer you a distinct position to stand out of the crowd. We help you achieve that covetous appeal with our detailed laundering services.
what we do
We Offer Best Solutions for Your shirt laundry Needs
Before cleaning and ironing, we carefully take out the cufflinks and collar stays to protect your shirt from unsightly impressions and fraying. Appropriate measures are taken for other issues as well like hanging buttons, lint issues, twisted seams, etc. to ensure that absolutely nothing disturbs the smooth laundering and ironing ritual to infuse the new life into your favourite shirts. In short, we transform your regular shirt into an iconic style statement.
Get Reliable Shirt Laundry Services
We provide you detail-oriented services for laundering your favourite shirts. We carefully confirm that no buttons are chipped or damaged before ironing your shirts. Using a detailed approach, the crucial areas like cuffs, underarms, and collars are given special treatment and properly scrubbed before laundering. The loose threads are tightened to avoid wear and tear. Along with these pre-laundering steps we also have a well-defined process to ensure post-laundering care for your shirts. According to the fabric, condition, age, and special instructions we carefully fold the shirt, box it or simply hung it on one of our specially designed shirt hangers and properly cover it to protect it from ambient particles or stains.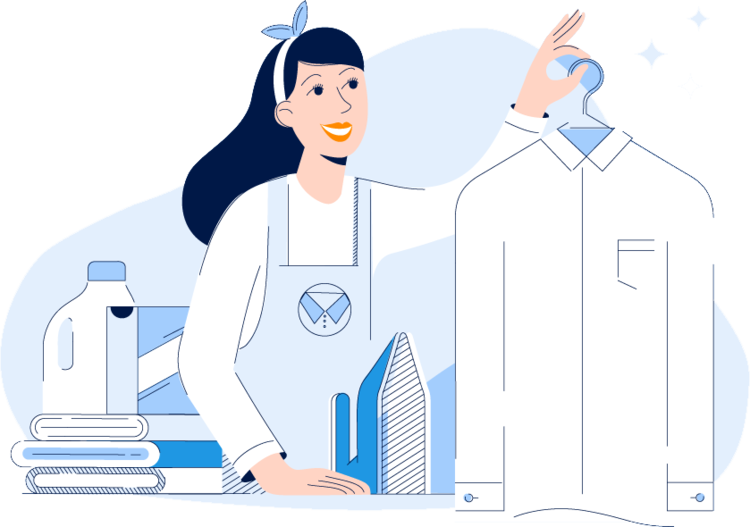 We offer detail-oriented services
At Premium Dry Cleaners we are passionate about providing the best shirt laundry services in Canada. That's why we carefully work on each shirt to give it the best look. Here are just a few out of many specific details we keep in mind while laundering your favourite shirt.
Bleach damages the shirt's fibers and leaves unsightly yellow stains due to the oxidization process. We never use bleach on your delicate shirt.
Starch dries out on your shirt's fabric. And over time its residue breaks and frays the threads resulting in wear and tear. We don't employ starch in the laundering process.
We never iron over shirts' buttons as they can leave odd marks.
Areas near the collar and front pocket receive the maximum attention. So we spend lots of time and attention while ironing these areas.
We go that extra mile for customer satisfaction
Remarkable Services
We offer remarkable professional care for your shirt laundry services. Right from doorstep pickup and delivery, to detailed procedures, meticulous cleaning, and top-notch ironing services- we near shy to go that extra mile to help you achieve that first-rate appeal.
A culture of agility and accuracy
Agility and precision define our business. We have carefully recruited the cream talent and employed tech-enabled processes to speed up things without compromising the outcome. You can always rely on us for punctuality and promptness.
Care is at the core of whatever we do
We employ effective and eco-friendly laundering and ironing practices without using any hazardous materials. Our entire work mechanism is focused on one word-Care. We care for your delicate clothes, your valuable health, and our beloved planet. So you can always expect superior cleaning services without compromising your health or environment.
How do we work?
We employ a well guided, simple but effective workflow to deliver you the best services in a timely fashion:
Tell us about your needs

We offer excellent shirt laundry services in Peterborough, Belleville, Kingston, and the surrounding areas. Tell us about your shirt laundry and ironing needs by filling out a simple form or just giving us a call.

We collect your clothes

Visit our shop or call our team to your doorstep for collecting the clothes.

Assessing the needs and delivering services

We carefully assess the condition and determine the cleaning techniques for your cloth. It is followed by a comprehensive cleaning exercise with complete attention. The shirt is then hand-pressed or machine pressed with delicate care to makes its best details stand out turning it into a real show-stealer.

Doorstep delivery

The washed and ironed shirt is then delivered to the client with the utmost care to protect it from any stains or particles during transport.